The A.G.M./Spring Show of the C.B.B.A. took place on Sunday, 10th, June at Wolvey Village Hall, Wolvey, Leics. There were 18 members in attendance at the A.G.M. and main officials elected to serve for the following year are as follows -
President - D, Guppy
Presidents Elect - B. & M.Walker
Chairman and Publicity Officer - B. Gibson
Vice Chairman - D. Harriss
General Secretaryand Membership Secretaries - B. & M. Walker.
Treasurer and Patronage Secretary - N. Humby
Editor - S. Ormerod
Committee - B. Taylor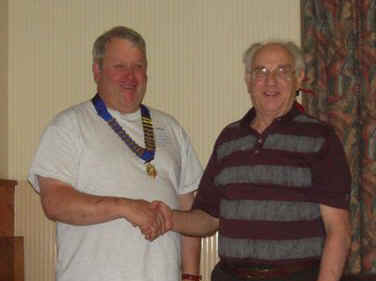 Dave Guppy, accepting Presidents chain from Bill Gibson
The show attracted an entry of 68 exhibits and judging was in the capable hands of Malcolm Freemantle. During judging Clifton Wixon gave an interesting power-point presentation on the budgerigar breeding season which was well received by the members present. The main show winners were as follows -
Best yellow-wing any age and Best clearwing in show - B. & M. Walker.
Best Whitewing - B. Gibson
Best Champ. Clearwing Any-Age, B.& M. Walker.
Best Novice Clearwing Any-Age - A & J. Beasley.
Best Beginner Clearwing Any-Age - T. Lovel.
Best Champ. Clearwing Y/B - B. Gibson
Best Novice Clearwing Y/B - G. Doody
Best Beginner Clearwing Y/B - T. Lovel
Best Yellow - C. Brickell
Best White - B. Gibson
After judging and before the A.G.M. a new system of catering was tried which proved a great success. This was a case of members bringing various eatables with Margaret Walker arranging things and all enjoyed the experience. The same system will take place next year. The date for the 2013 Show/A.G.M. wil be 9th, June at the same venue.
A reminder to the C.B.B.A members who have not yet renewed their membership. The show season is now underway and exhibitors must be fully paid up members of the society to qualify to compete for the society specials.
Even if you are not an exhibitor the society still welcomes you, we need to keep the clearwing variety going forward.