| | | |
| --- | --- | --- |
| | | |
The C.B.B.A Club Show 2010 in conjunction with the Budgerigar Society World Championship Show
Having booked into the Campanile Hotel after getting soaked on a very soggy Friday afternoon, I braved the monsoon again to meet up with Margaret & Bill Walker at the Show Hall to sort out the C.B.B.A. stand which Gordon Grist was delivering to Doncaster. With the M.B.A. and L.A.B.S stands already refurbished I was on the homeward straight. With the photos that Bill and taken over the last twelve months and the captions that Margaret had produced we set about our task. An hour or so later it was job done. With me judging, and our President and Patronage Secretary not arriving until Sunday we had no one available to man the stand, so we were unable to open for business until Sunday morning, so our sincere apologies if this inconvenienced anyone.
I had wanted to go bowling, normally I don't stay at Doncaster so it was going to be a treat but with the Doncaster Superbowl being spruced up it was plan B so back to the Hotel, (got wet again, inside and out) for a jar or two.
Saturday morning dawned and yippee it wasn't raining! After a hearty breakfast it was off to the Dome to judge a few budgies. Meeting up with my fellow judges in the "dressing room" above the Show Hall, after a good old natter photos were taken, instructions were given, and Challenge Certificates were signed. Then our Chief Stewards escorted us downstairs to do battle. So it was Yellow-wings, Whitewings and Opaline Greens here I come.
My Chief Steward was Alex Woan, who was ably assisted by Belinda Finlayson and Laura Hutt. Although I know all three very well, it really would have been nice to have had a couple of C.B.B.A. members with me at this our C.B.B.A. Club Show.
With only 28 Yellow-wings and 36 Whitewings the B.O.C. judging did not take long. In fact the largest class was 6 birds in the Champion Whitewing Adult Cock. It was very disappointing and generally the quality of the exhibits fell away after the Champion section.
Yellow-wing Any Age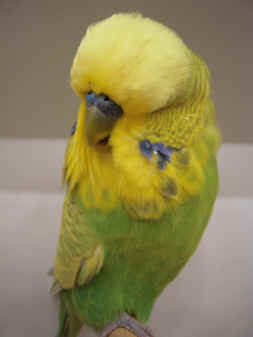 B.O.C. 33-4 Yellow-wing Dark Green Cock – R.Day
Good size – had width of head – a clean cap – and good contrast. A couple of flights missing on the right admittedly.
2nd & Best Opp.Sex 34-1 Yellow-wing Dark Green Hen – Guppy & Barnes
Good balance and deportment but dark primary flights tended to spoil this.
3rd 634-1 Yellow-wing Dark Green Hen – A.G.Beasley
Good wing markings & nicely presented if a little untidy around the tail.
Yellow-wing Young Bird
B.O.C. 134-2 Yellow-wing Dark Green Hen – Guppy & Barnes
Really good depth of body colour – clean cap too but very flighty and just would not display itself to its best advantage.
2nd & Best Opp.Sex 133-2 Yellow-wing Light Green Cock – Guppy & Barnes
Excellent condition, but just lacked that little something.
3rd 933-1 Yellow-wing Light Green Cock – E.Newall
Quite well presented.
Whitewing Any Age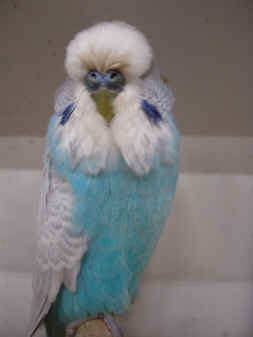 B.O.C. 235-2 Whitewing Skyblue Cock – R.Docherty
A very stylish bird with excellent deportment. Although the bird was clean and tidy, I would have loved to have seen it in a better shop window. With a Whitewing like this why isn't the exhibitor a member of the C.B.B.A?
2nd 35-4 Whitewing Cobalt Cock – R.Day
Only one tail feather and could have done with a more even shade of body colour.
3rd & Best Opp.Sex 36-1 Whitewing Violet Hen – Guppy & Barnes
Very good depth of body colour, bringing with it the darkness of wings.
Whitewing Young Bird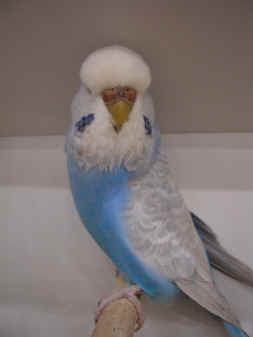 B.O.C. 136-3 Whitewing Cobalt Hen – R.Day
Lovely clean looking bird in excellent condition. Nice contrast – good wing markings. Very attractive.
2nd & Best Opp.Sex 135-2 Whitewing Violet Cock – Guppy & Barnes
Smashing violet body colour, spoilt by dark primary flights and lacks a little in head quality.
3rd 335-1 M.Anzara
A Whitewing, but needs more contrast to stand out in the crowd.
At the B.S. World Championship Show we are not permitted to retain birds to judge for C.B.B.A. Specials. The B.O.C.s have to go immediately to the holding area to await the major award judging. So the selection of Best Yellow-wing, Best Whitewing and ultimately Best Clearwing in Show has to be done after the major awards have been chosen, and after the judges have had lunch.
So having dinned, I ventured forth to complete my Show Report and sort out our principal winners. That was where my Club Show turned ever so slightly pear-shaped. Firstly, I needed my four C.C. winners to choose from. Having located my Yellow-wing Adult and Yellow-wing Young Bird, I discovered that the Adult Whitewing winner was not a C.B.B.A. member so had to bring up the 2nd in the line up the Whitewing Cobalt Cock. Then I had to wait for the Whitewing Young Bird as just after I arrived at the cage and was making a few notes, a steward came to take it to have its ring checked. However, when it returned to the staging I couldn't believe my eyes. There is the Cobalt Hen sitting proudly on the left hand perch, having parted company with her two long tail feathers which are trapped in the door of the show cage! Oops, I think might be considered a bit of an understatement.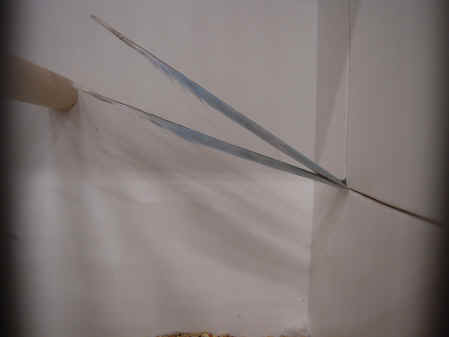 Having approached one of the Assistant Show Managers to try and establish just who had shut the tail in the door, I failed miserably, so I have written to the Budgerigar Society to protest. Not only did I have an irate exhibitor accuse me of pulling the tail out of his bird so he couldn't show it at a later show, the whole episode completely messed up our awards since I couldn't select the bird I really wanted. To make matters worse a little later the tails had disappeared from the door, so it then looked as though I had put a bird up with no tail. The whole episode completely spoilt what should have been a memorable weekend. In fact at one point I was on the verge of going home.
Best Clearwing in Show 33-4 Yellow-wing Dark Green Cock – R.Day
Best Yellow-wing in Show 33-4 Yellow-wing Dark Green Cock – R.Day
Best Whitewing in Show 136-3 Whitewing Cobalt Hen – R.Day
Saturday night I went out for a meal and had quite a few drinks with good company to drown my sorrows (wasn't driving) and returned to the hotel to watch the "footie".
What happened Sunday? Oh, yes spent most of the day on the LABS stand sulking. The C.B.B.A. stand came third in the stand competition, well done Bill & Margaret, and guess what? I got absolutely drenched twice, it flippin rained again!
Lyn Bancroft