SBBA - BS CLUB SHOW 2011
reported by Ghalib Al-Nasser, SBBA Chairman
Budgerigar photos by Mick Freakley
The spangle entry for our club show had a small increase in entry from last year's entry with 224 (208 last year) entered made up of 110 Spangle Greens and 114 Spangle Blues. The spangles, as always, did fairly well throughout the sections but our expectations were exceeded when the variety captured two of the four major awards! Geoff Bowley won Best Young Bird in Show with a magnificent Spangle Light Green cock and our members Geoff & Anne Moore captured the award of Best Opposite Sex Any Age in Show and overall Best Opposite Sex in Show with a Spangle Light Green hen. The spangles fared well throughout the sections, but on this occasion the variety headed one section only; champion young bird with Geoff Bowley's winner.
The Association extends its congratulations to all winners, including those who also did well in their respective sections, with their spangles. Philip Dye judged the Spangle Greens and Terry Tuxford judged the Spangle Blues.
Winning members in the Spangle sections were treated, once again, to some wonderfully designed certificates and the best spangle in show and four major winners also received special certificates enclosed in glass frames which added a further special touch to the awards. Our sincere thanks are extended to John Cosby for producing those wonderful certificates. It was also pleasing to see that two out of the four spangle challenge certificates were won by SBBA members.
Once again we extend our thanks to John Cosby for manning our stand throughout the weekend; to Rod and Sue Clarke for dealing with our patronage and trophies, assisted by Cy Thorne; and to all other committee members for their assistance.
Our thanks and congratulations are extended to all our members who entered their spangles at the show and did well.
Spangle Green Series: The adult CC and Best Spangle Green in Show went to Jerry Donovan's upright Light Green cock of good quality benched in excellent condition (7th Best Champion Any Age). Geoff & Anne Moore occupied second place with their Best Opposite Sex in Show Light Green hen; a nice all round bird showing itself well on the perch (8th Best Champion Any Age). Brian Wilson occupied third place with his powerful Double Factor Spangle Yellow cock of good directional feathering (2nd Best Intermediate Any Age).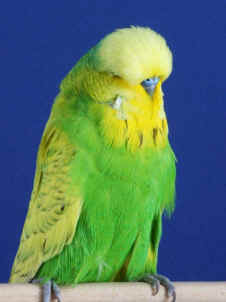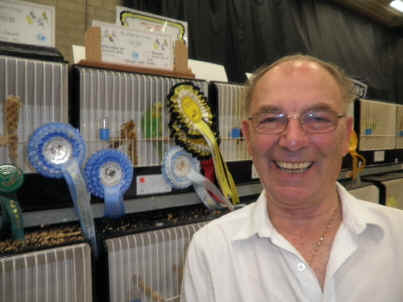 Jerry Donovan with his Best Spangle Green A/A winner
The young bird colour was headed by the Best Young Bird in Show of Geoff Bowley; Light Green cock of large size and wonderful blow and directional feathering. Kevin Sykes benched a Cinnamon Light Green hen in second place (3rd Best Beginner Young Bird); a well balanced stylish hen of good blow shown in good condition. Michael & Margaret Chapman benched a nice Double Factor Yellow hen in third place.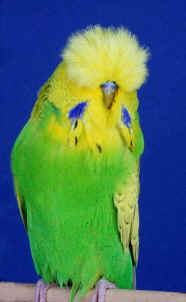 Best Spangle Green YB D G Bowley
Place Any Age C.C. Young Bird C.C.
1st J. Donovan G. Bowley *
2nd G & A Moore K. Sykes
3rd B. Wilson M & M Chapman
4th J. Grubb Ward & Rogers
5th G. Turner D. Turner *
6th Ward & Rogers G. Turner
7th S. Gibson * J. Donovan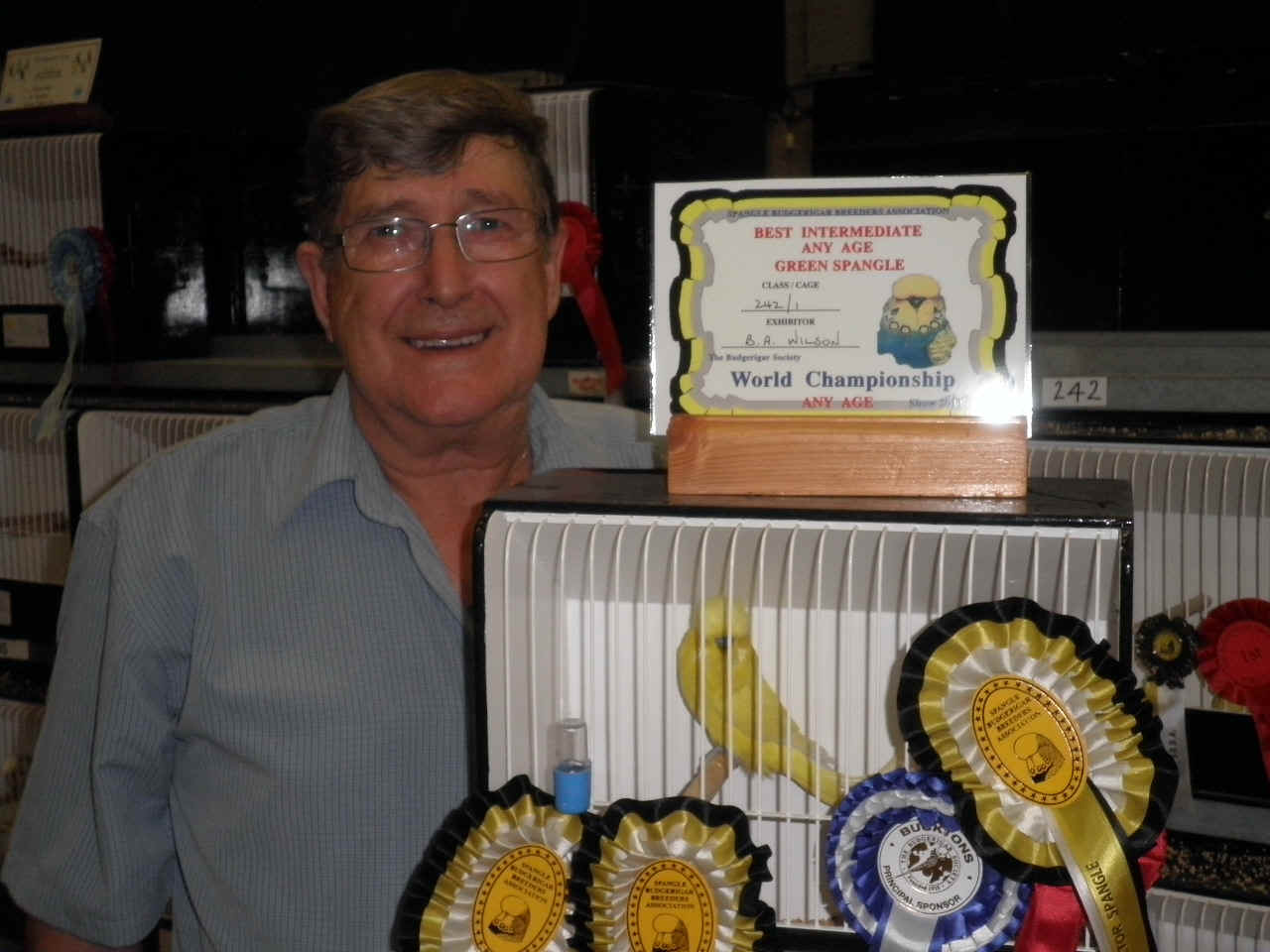 Brian Wilson with his Best Double factor Spangle in Show
Spangle Blue Series: The partnership of Paul & Nikki Stannard won this adult CC with a lovely Goldenface Opaline Skyblue cock benched in good condition and sporting good head quality and deep mask (3rd Best Champion Any Age). Kevin Sykes was second with a smart Cinnamon Grey cock of good quality (5th Best Beginner Any Age). Brian Wilson benched a Yellowface Skyblue hen in third place with well defined spangle spots with good back line (5th Best Intermediate Any Age).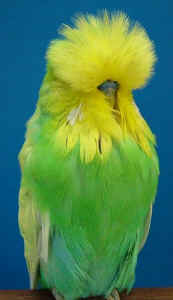 Best Spangle Blue series AA P N Stannard
Geoff & Anne Moore won the young bird award and Best Spangle in Show by a member with a superb Grey cock with good spangle marking and head quality. John Copeland occupied second spot in this line up as he did last year with another hen, Opaline Grey, of good style. Peter Hickton-Collins was third with a nice clean Double Factor White cock.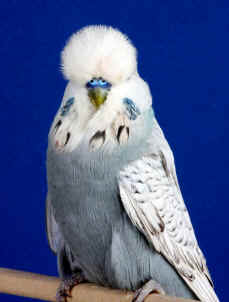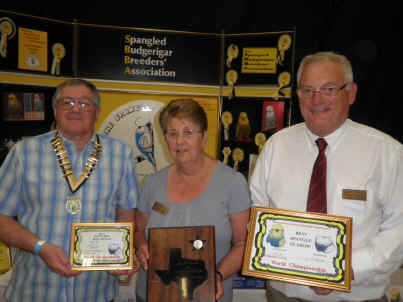 Geoff & Anne Moore who won Best Spangle in Show by a member with Bob Allen, SBBA President
Place Any Age C.C. Young Bird C.C.
1st P & N Stannard * G & A Moore
2nd K. Sykes J. Copeland
3rd B. Wilson P. Hickton-Collins *
4th J. Newall * Findlay & Flavell
5th J. Copeland D. Leadbetter
6th J. Donovan N. Johnston
7th C. Sutton J. O'Neill *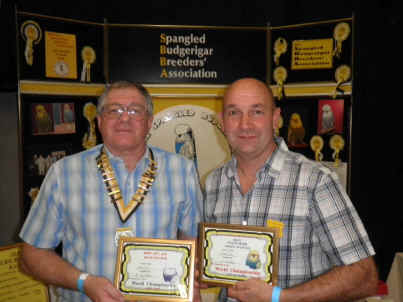 Kevin Sykes (Best Spangle Blue A/A by a member) with Bob Allen, SBBA President
* indicates non-SBBA member