SPECIALIST & RARE VARIETY OPEN SHOW - 2016
reported by Ghalib Al-Nasser, Show Organiser
The 28th Specialist & Rare Variety Open Show was another success with a great, relaxed atmosphere among exhibitors and visitors and an increase of entry by 9%. The total entry was 587 from 45 exhibitors of which 518 birds were benched. There were fewer birds in the sales classes which made both entry and benched birds in the competitive classes higher than last year.
The show had its usual international flavour with our friend Carlos RamŰa from Portugal attending the show as he always does, and of course the Italian judge Dino Pocecco and his friend Marco Barni, secretary of the Italian Budgerigar Society. It was also pleasing to see a Chinese student who is interested in budgerigars accompanying Jerry Donovan.
As always, the show committee extends its sincere thanks and gratitude to the following sponsors; Rosettes of Quality (50% cost of all the open rosettes for the show); Geoff Capes (cost of all the ceramic awards to the judges and Best of Colours); Mick Anzara, Ian Brickwood, Sue & Rod Clarke, Jan Hill, Grant Findlay & Nick Flavell and David & Linda Rafis for their financial sponsorship. Warren Wilson & BRASEA donated major rosettes for all the BOC winners. Jim Mitchell donated a show cage for the raffle. The show also received sponsorship in the form of bags of seed & products from Norman & June Cox, Johnston & Jeff Ltd, Country Wide Seed. Donated birds for the raffle came from Alan & Gina Adams, Ghalib & Janice Al-Nasser, John Cosby, Neville & Jenny East, Gren & Pat Norris and Terry Sadler to whom the show committee extends its sincere thanks.
Our Guests of Honour this year to present the 45 trophies were none other than our hard working show committee members Sue & Rod Clarke, past presidents of the CBC, RV&CBS, SBBA and VBC as well as their area society the MBA.
The show was dominated by 3 exhibitors who between them won 16 out of the 24 colour awards namely Gren & Pat Norris (6), Malcolm & Pam Freemantle (5) and Jerry Donovan (5). On a sadder note this was the last show that Jerry Donovan exhibited at as he is giving up the birds due to health problems.
QUALITY SPANGLES
There was a drop in the spangle greens to 26 for Mick Freeborn to judge and the best was the adult quality grey green cock of Neville & Jenny East of good head quality and spangle markings. They were second with another quality good shouldered hen. Andrew Wood from the beginner section was third with a long green hen of good head quality.
Neville & Jenny East - Best Any Age Spangle Green
Jerry Donovan came on top in the young bird section with a young light green cock staged in good condition but not of the best spangle marking. Arnold Stevens was second with a bold light green hen. This was followed by Oliver Williamsí grey green cock which was also judged as the best junior overall young bird in show.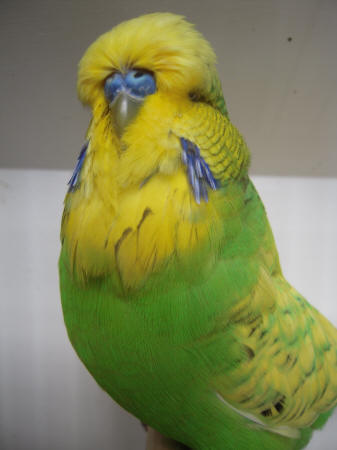 Jerry Donovan - Best Young Bird Spangle Green
Andy Thorpe judged the 40 spangle blues and awarded the adult CC and Best Spangle in Show to Gren & Pat Norris with an outstanding cinnamon grey cock of good size and good spangle spots. Arnold Stevens was second with a cobalt hen followed by Andrew Wood in third place with a grey cock.
Best Spangle in Show - Gren & Pat Norris
Jerry Donovan headed the young bird section and best spangle young bird overall with a quality skyblue cock. Ray Cozens was second with a cobalt hen followed by the beginner Paul Price in third place with a skyblue cock.
Dino Pocecco from Italy judged the 35 double factor spangles which was an increase from last year and awarded Arnold Stevenís yellow cock as the best in this variety which was of good colour and head quality. Andrew Wood was second with a good yellow cock but with slight green suffusion. The Widdowson & Wilson partnership were third with a yellow hen of good quality.
Arnold Stevenís - Best Double Factor Spangle
The young bird section was headed by Colin Potterís typey white cock of good size. Arnold Stevens was second with a yellow hen of good deportment. Paul Price was third with a white cock with suffusion.
Best Double Factor Spangle Young Bird - Colin Potter