SPECIALIST & RARE VARIETY OPEN SHOW - 2013
reported by Ghalib Al-Nasser, Show Organiser
In celebrating its 25th Silver Jubilee Show the Specialist & Rare Variety Open Show sadly had a fall of 26% in entry caused by a drop in the number of exhibitors because of the clash with Silverstone Formula One Racing nearby which unfortunately put a few exhibitors off. However, the clash and diversion around the area did not affect those who turned up with their birds from the West Country both ways. The show had a total entry of 480 of which 333 birds were benched from 38 exhibitors.
As always, the show committee extends its sincere thanks and gratitude to the following sponsors; Brown & Hutt (50% cost of all the open rosettes for the show); to Geoff Capes (cost of all the ceramic awards to the judges and Best of Colours), Mick Anzara, Jan Hill, Grant Findlay & Nick Flavell, Dave Guppy and Dave & Linda Rafis for their financial sponsorship. Warren Wilson & BRASEA donated major rosettes for all the BOC winners and other colour awards. The show also received sponsorship in the form of products from The Birdcare Company, Johnson & Jeff Ltd, Johnson's Veterinary Products Ltd and Murphy & Son Ltd. Donated birds for the raffle came from Bob Allan, Gren & Pat Norris, Bob McCabe, Cy Thorne and Malcolm & Pam Freemantle. All members of the show committee also sponsored the show with raffle prices
Our Guest of Honour this year to present the 45 trophies was Bob Allen, the Spangled BBA President. Next year's show will be staged on 28th & 29th June 2014 (week 26) at the same venue in Bugbrooke, Northamptonshire.
QUALITY SPANGLES
Another drop to 37 Spangle Greens for Bev Hutt to judge and she awarded the adult CC to Jerry Donovan's well known Spangle Light Green cock of good length and staged in good condition. Colin Brickell was second with a well marked Grey Green hen which was followed by Jim Mitchell's well balanced Double Factor Yellow cock.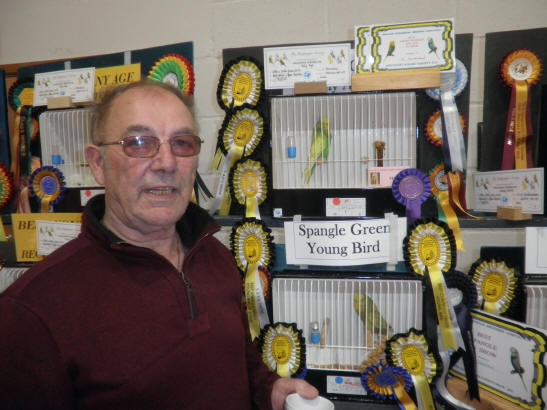 Jerry Donovan who won Best Spangle Green Any Age
A lovely Grey Green hen of quality that stood well captured the young bird certificate for Mick Widdowson and won Best Spangle overall in Show. Roger Hill was second with a steady lovely shaped Light Green cock. This was followed by Colin Potter with a nice Double Factor Yellow hen.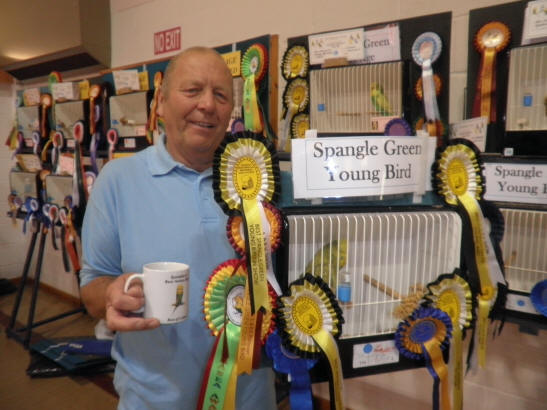 Mick Widdowson who won Best Spangle in Show
Bill Hough judged the 51 Spangle Blues and awarded the Best Spangle Blue and adult CC to John & Jamie Naylor's Double Factor White cock of good size, width and style. Fred, Sheila & Kevin Eatwell were second with a Skyblue cock of good style and depth of face. Michael & Margaret Chapman occupied third place with a Skyblue hen of good marking and condition.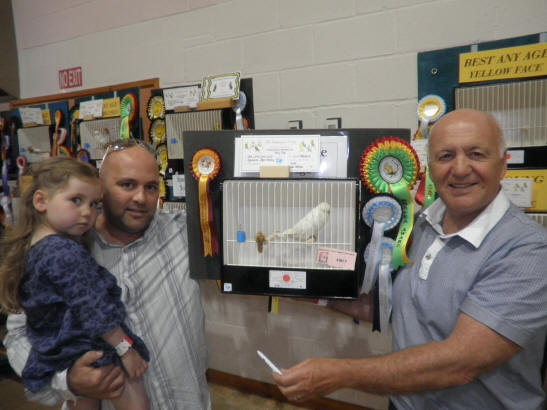 John & Jamie Naylor who won Best Spangle Blue in Show
Colin Potter headed the young bird section with a stylish Cinnamon Grey hen of good width of shoulder and blow and his Grey cock, also of good width of shoulder, was third. Arnold Stevens came second with a deep faced Grey cock of good width.