SPANGLED BUDGERIGAR BREEDERS' ASSOCIATION
NEWS - AUGUST 2006
Report by Janice Al-Nasser, SBBA Publicity Officer
With the show season nearly over by the end of September, fanciers will gear their efforts towards our own club show to be staged in conjunction with the B.S. Club Show in November. Many exhibitors have done well with their spangles on the show bench with good spangles benched by Jerry Donovan, Roy Aplin, Tom & Andrew Luke, Sheila Burne & John Crooks partnership and others. All will be concentrating their efforts and wondering how their spangles will fare at the club show. There will be 31 trophies and rosettes for competition among paid up members.
Jerry Donovan did extremely well at both the Spangle Day and the Specialist & Rare Variety Show by winning best Spangle in Show with his well known Spangle Opaline Light Green cock. Will he make it a Hat Trick at the Club Show?

Photo Left
Jerry Donovan who won Best Spangle in Show at the SRVOS.
This year saw the introduction by the B.S. of a second challenge certificate for Spangles at all double CC shows with both the Spangle Green & Spangle Blue series having their own certificates. At the Specialist & Rare Variety Show in July, Jerry Donovan captured both the any age & young bird Green CCs while Gren & Pat Norris won the adult Blue CC and Dave Guppy & Dave Barnes won the young bird Blue CC.
| | | | |
| --- | --- | --- | --- |
| Jerry Donovan AA Green | Jerry Donovan YB Green | Gren & Pat Norris AA Blue | Guppy & Barnes YB Blue |
Warren Wilson, our life member from Sydney, Australia, was present at the SRVOS as he was invited to judge the show; he presented, on behalf of BRASEA and Feathered Friends Radio, many rosettes, medals and a painting for Best Spangle in Show. The same awards will be available at our club show as well. We extend our sincere thanks to Warren for his kind generosity.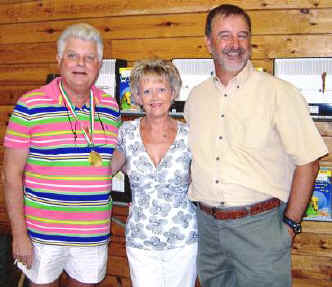 Warren Wilson with Yvonne & Terry Tuxford
Members are reminded that subscriptions are due as from 1st January and should be sent to the Membership Secretary John Cosby ("Shambles", 7 Oakwood Lane, Moston, Sandbach, Cheshire CW11 3PR. Tel: 01270 526306, email: budgie750@aol.com). Rates are £7 single, £11 partnership (living at same address); unrelated partnership is sum total of members, £4 senior citizens, registered disabled and juniors. The society also offers a life membership at 20 times the current subscription. The next Spangle Day/AGM will be held on Sunday 29th April 2007 (usual week 17) and will be hosted by South Cheshire B.S.
The Association has its own website, which can be visited on www.spanglebudgerigars.co.uk
For all other information please contact the secretary Clifton Wixon (88 Highworth Cresent, Yate, Bristol BS37 4HL. Tel: 01454 881334, email: marionwixon@blueyonder.co.uk).