Spangled Budgerigar Breeders' Association
Report by Ghalib Al-Nasser
The society, for the first time, joined forces with the Crested BC, Lutino & Albino BS, Rare Variety & Colour BS and Variegated BC at their Specialists Societies Combined Event in Bugbrooke in May to stage their Members Show and AGM. This proved to be successful and it will be a regular event for the future. The guest speaker for the event was Phil Reaney who developed an interesting and informative presentation on birds and their feather Atom Bombs & Dynamite.
The 41 entry for the spangle section was most encouraging and the best was a quality double factor spangle white cock benched by Ghalib & Janice Al-Nasser. Bob Allan won the best spangle young bird and was second best with a spangle grey green of good quality. The best spangle blue series and third best spangle in show was a spangle grey cock benched by Cy Thorne.
At the AGM the Chairman, Ghalib Al-Nasser, welcomed members to the meeting and announced that the Alf Ormerod Memorial Trophy for the 2015 Most Spangle Young Bird wins went to Donald Burnett from Glenrothes, Fife with 15 wins.
All officers gave positive reports on their activities and the balance sheet looked very healthy with a large surplus on the year. All officers remained the same with Ian Clarke as President, Arnold Stevens as President Elect, Ghalib Al-Nasser and Stuart Forbes Life Vice Presidents with the new additions of Janice Al-Nasser and Rod & Sue Clarke; Steve Amos, Jeff Attwood, Fred Canham, Bill & Christine Heale, Rienhard Molkentin, Frank Silva, Roy Stringer & Ron Thumwood, Vice Presidents; Ghalib Al-Nasser, Chairman, Secretary & Publicity Officer; Rod Clarke, Vice Chairman & Patronage Secretary; John Cosby, Membership Secretary; Janice Al-Nasser, Treasurer; Sue Clarke, Trophy Steward; Bob Allen, Ian Brickwood & Cy Thorne, committee members.
With the position of the editor being vacant it was decided that, as from next year, the society will produce a joint publication with the CBC and RV&CBS. John Cosby offered to produce the first combined issue until the three societies find an editor. John was thanked for producing the spring issue of the Spangle Review which was posted to all members in May.
Subscription rates remained the same at: single £8, partnership (same address) £12, partnership (different addresses) £8 per member and OAP, disabled & junior £5. Life membership at 20 times the single membership is available.
All correspondence, other than membership and patronage, to be sent to the chairman Ghalib Al-Nasser ('Evenstar', Pinkuah Lane, Pentlow, Sudbury CO10 7JW. Tel: 01787 282332, email: ghalib.alnasser@gmail.com). More information about the society can be obtained when visiting the website (www.spanglebudgerigars.co.uk) to view.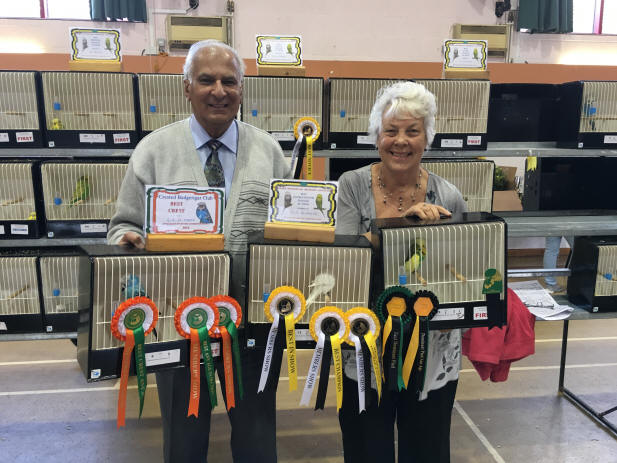 Best Spangle - Ghalib & Janice Al-Nasser