reported by Janice Al-Nasser, SBBA Publicity Officer, photos by Clifton Wixon
Having missed out on a complete show season in 2003 it was a pleasure to come back full swing with the 2004 show season. When the club show came around, eyes were set on one or two spangles that had performed well during the show season and wondered what were their chances at this prestigious show. One particular spangle was that of Bernard Kellett (Spangle Grey Green cock) who I saw at two of the shows that I judged, namely Clwyd BS and South Cheshire BS. On both occasions this bird was acclaimed to be the Best in Show. He came to the show with three BIS awards to his credit. Bill and Malcolm Hough's Double Factor Spangle Yellow cock was another favourite who has done well during the show season.
Eventually the spangles did extremely well in the sections but of course not as well as at the 2002 show when they captured both of the supreme awards. The total Spangle entry was 286 (175 Greens and 111 Blues), which was down from the 2002 entry of 357. The drop was mainly in the Blue series.
A big THANK YOU needs to be extended to John Cosby for manning our stand throughout the weekend as well as Rod and Sue Clarke for dealing with our patronage and trophies. Thankless tasks at the best of time, but these stalwarts work extremely hard for our Association.
We extend our congratulations to all our members who entered their spangles at the show and did well.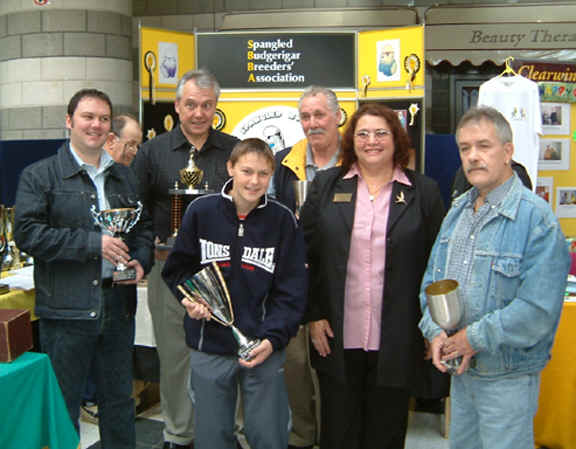 S.B.B.A. winners being presented with their trophies
by Marion Wixon, Spangle Blue Series Judge
Spangle Green Series:
Jeff Attwood judged this colour and was pleased with the birds benched. His adult C.C. winner was that well-known Spangle Grey Green cock of Bernard Kellett. It was no surprise that this bird has captured this award having done so well throughout the year. It was shown in perfect condition and displayed good spangle contrast. It was placed 5th best champion any age and also went to win Best Spangle in Show. The Scottish husband and wife partnership of J & L McGeehan were second with their Light Green cock, which was also best intermediate any age in show. Again a bird of substance and quality. An Opaline Grey Green cock of J. B. Harvey from the novice section was third best and had good head quality and size but was slightly soft. However, it did not prevent it from being placed 2nd best novice any age in show. The best hen was a double factor yellow that was 4th in the C.C. line up for R. Quigley (6th intermediate any age).
The young bird C.C. was captured by P. Cunliffe with a lovely feminine Dark Green hen of good spangle markings and to add to this honour it went on to win best intermediate young bird in show. Cliff & Darren Jones' Green cock was second best and was the best bird in section apart from its slight flecking. A. Stevens was third best with a Green cock and was also 8th best intermediate young bird in show. Jeff's general comments were that the overall quality of the first eight birds in the line up was quite reasonable but many carried faults and the condition of many was poor.
| | | |
| --- | --- | --- |
| Place | Any Age C.C. | Young Bird C.C. |
| 1st | B Kellett | P Cunliffe |
| 2nd | J & L McGeehen | C & D Jones |
| 3rd | J B Harvey | A Stevens |
| 4th | R Quigley | R Townsend |
| 5th | A R Huckstep | B Cattell |
| 6th | Heylen & Nettekoven | K Humphries |
| 7th | R & M Miller | S Lansdowne |
| 8th | H W & M Hough | M Anzara |
| 9th | L Pennick | G French |
| 10th | H W & M Hough | C Thorne |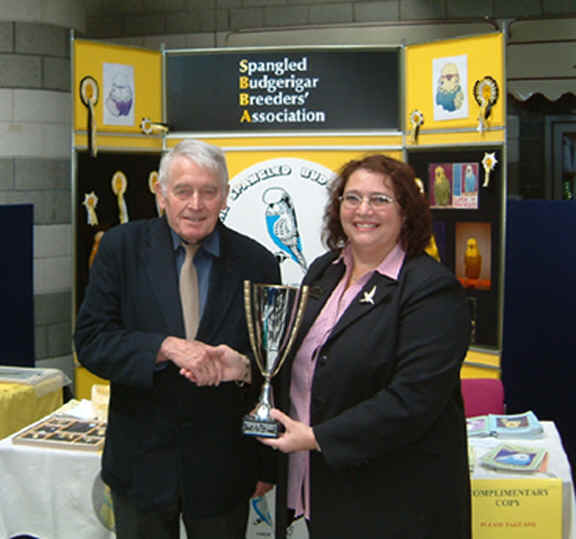 Best Spangle in Show ~ Best Spangle Green Series Any Age
Bernard Kellett being presented with his trophies by Marion Wixon
Spangle Blue Series:
Marion Wixon judged this colour and the winner of the A/A C.C. was a Grey cock of Roy Aplin (7th best champion any age) which was staged in excellent condition and had good spots, variety markings and lovely width of shoulder. Bernard Kellett was second with a superb Double Factor White cock, again a bird staged in good condition and of good size and width. A Cobalt cock from the father and son partnership of R & M Miller was third best (7th best novice any age); a showy bird with good solid colour. Best hen was again from the Miller partnership. A well-balanced bird in good condition with nice depth of mask.
The young bird line up was again not as good as the any age, and condition played its part in the placing. Bill and Malcolm Hough came to the fore with their Grey cock which was 5th best champion young bird. This bird was of good size and variety markings and had good spangle spots. P. Cunliffe was second with a good smart Grey hen of good markings which stood well. Mr. Cunliffe did well with his spangles in the intermediate section winning also 5th best intermediate young bird with this hen. Cy Thorne was third with a bold Double Factor White hen with lovely width of head and shoulder and were it not for the colour suffusion she would have been placed higher.
| | | |
| --- | --- | --- |
| Place | Any Age C.C. | Young Bird C.C. |
| 1st | R Aplin | H W & M Hough |
| 2nd | B Kellett | P Cunliffe |
| 3rd | R & M Miller | C Thorne |
| 4th | A & F Easdon | R Payne |
| 5th | R & M Miller | J Horspool |
| 6th | P Cunliffe | A & F Easdon |
| 7th | M Anzara | J E Jones |
| 8th | B A Wilson | K Fagon |
| 9th | R W Brown | R & M Miller |
| 10th | C & M Snell | G Shepherdson |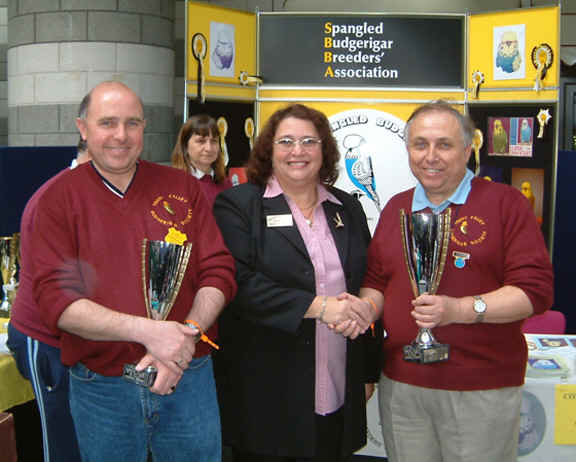 Best Spangle Blue Series Young Bird
Bill and Malcolm Hough receiving their trophies from Marion Wixon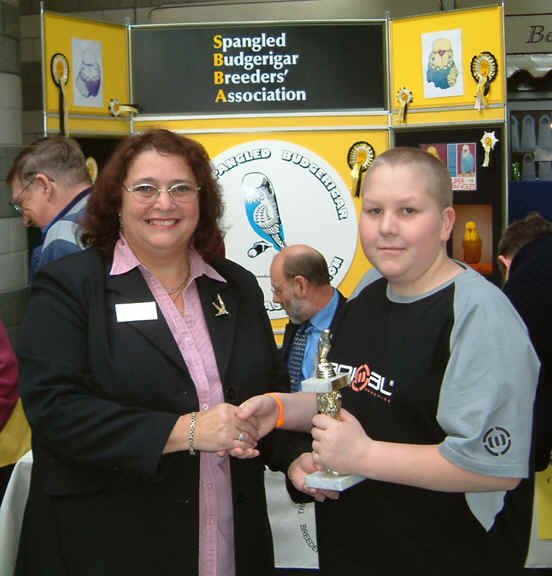 Best Spangle Junior Young Bird
Master E Hooper receiving his trophy from Marion Wixon
Spangles at the BS World Championship Show 2004

YB CC P Cunliffe

YB CC H W & M Hough

AA CC B Kellet

AA CC R Aplin
Lone Star Spangle News Alf Ormerod Memorial Plaque - Best Spangle in Show B. Kellet
Alf Ormerod Trophy Best Spangle Green in Show B. Kellet
Kevand Rosettes Trophy Best Spangle Green Any Age B. Kellet
Tony Ducker Trophy Best Spangle Green Any Age Opposite Sex R. Quigley
Ghalib Al-Nasser Trophy Best Spangle Green Young Bird P. Cunliffe
Frank Silva Trophy Best Spangle Green Young Bird Opposite Sex C. & D. Jones
Grant Findlay Trophy Best Spangle Green Champion Any Age B. Kellet
Roy Stringer Trophy Best Spangle Green Champion Young Bird C. & D. Jones
Frank Silva Trophy Best Spangle Green Intermediate Any Age J.&L. McGeeham
Roy Sylvester Trophy Best Spangle Green Intermediate Young Bird P. Cunliffe
Ivor Grogan Trophy Best Spangle Green Novice Any Age R. & M. Miller
Janice Foxton Trophy Best Spangle Green Novice Young Bird B. Cattell
Mr & Mrs Melvyn-Taylor Trophy Best Spangle Green Beginner Any Age L. Pennick
Fred & Sylvia Canham Trophy Best Spangle Green Beginner Young Bird S. Lansdowne
Barry Cole Trophy 2nd Best Spangle Beginner Young Bird M. Anzara
Jim Jack Trophy Best Spangle Blue in Show B. Kellet
Frank Silva Trophy Best Spangle Blue Any Age B. Kellet
Frank Silva Trophy Best Spangle Blue Any Age Opposite Sex R. & M. Miller
Jim Jack Trophy Best Spangle Blue Young Bird H.W. & M. Hough
Jim Jack Trophy Best Spangle Blue Young Bird Opposite Sex P. Cunliffe
Jim Jack Trophy Best Spangle Blue Champion Any Age B. Kellet
Jim Jack Trophy Best Spangle Blue Champion Young Bird H.M. & W. Hough
Jim Jack Trophy Best Spangle Blue Intermediate Any Age C. Wakeman
Jim Jack Trophy Best Spangle Blue Intermediate Young Bird P. Cunliffe
Jim Jack Trophy Best Spangle Blue Novice Any Age R.& M. Miller
Jim Jack Trophy Best Spangle Blue Novice Young Bird K. Fagan
Jim Jack Trophy Best Spangle Blue Beginner Any Age M. Anzara
Barry Cole Trophy Best Spangle Blue Beginner Young Bird T. Rooney
Jim Jack Trophy Best Spangle Junior Any Age C. Shore
Ivor Grogan Trophy Best Spangle Junior Young Bird E.J. Hooper
R. & V. Booth Crystal Trophy Best Double Factor in Show B. Kellet