SPECIALIST SOCIETIES COMBINED SHOW REPORT 2015
By Ghalib Al-Nasser, Event Organiser
The second combined annual members' show of the Crested BC, Lutino & Albino BS, Rare Variety & Colour BS and Variegated BC in May at their usual venue in Bugbrooke was another great success. The atmosphere was good, relaxing and pleasant and with improved attendance at the AGMs of the LABS, RV&CBS and VBC. We are all looking forward to next year when the Spangled BBA will join forces at the same venue in Bugbrooke on 15th May 2016.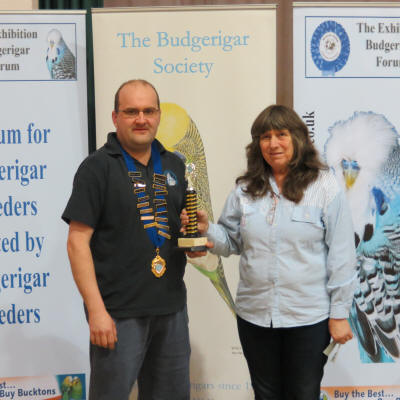 Cy Thorne with Pat Norris
Geoff Bowley and Trevor Terheege were pleased with the exhibits and number of birds that they judged. The show received an entry of 255 from 25 exhibitors and although slightly less than last year but still it can only be considered a great success for a show staged in May and only open to paid up members of the 4 specialist societies.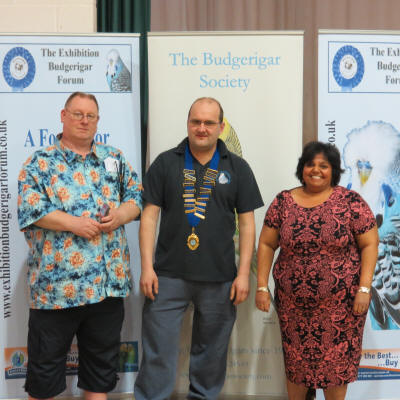 Cy Thorne with David & Jini Sharp
There was a big drop in entry in the rare section from 90 birds to 43 only and for the second year running Gren & Pat Norris won best rare in show with their well known Easley clearbody skyblue cock. Jim Mitchell occupied the next two places with a lacewing opaline yellow cock and Texas clearbody light green cock.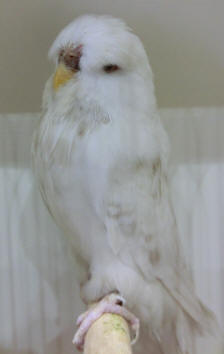 Jim Mitchell - best rare young bird in show with a lacewing white hen
Jim also won best rare young bird in show with a lacewing white hen. Other awards in this section went to David, Cyril & Jini Sharpe, best greywing; Jan Hill, English & German fallow & saddleback; Dave & Linda Rafis, best anthracite; Sue & Rod Clarke, best slate; Gren & Pat Norris, best Easley clearbody; Jim Mitchell, best Texas clearbody & lacewing.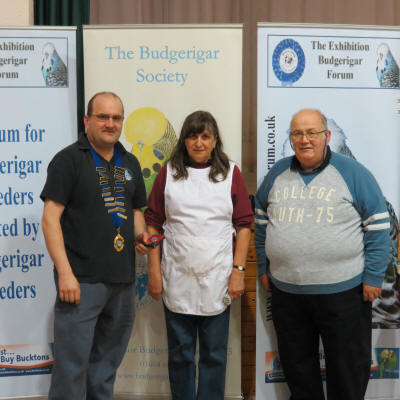 Cy Thorne with Sue & Rod Clarke
At the AGM, the Society Chairman, Ghalib Al-Nasser, congratulated all the winners and thanked members for bringing birds to this Combined Event. Cy Thorne, the Society's President, presented the 2014 winners Ghalib & Janice Al-Nasser with their Silver (Any Age) Sovereign Salver and Bob Allen with the Gold (Young Bird) Sovereign Salver.

Cy Thorne with Jan Hill
All officers remained the same at the AGM and were re-elected en-bloc as follows: Cy Thorne, president; David Rafis, president elect; Ghalib Al-Nasser, chairman, secretary & publicity officer; Rod Clarke, vice chairman & joint patronage secretary with wife Sue; Bob Allen, membership secretary & editor; Janice Al-Nasser, treasurer; Jim Mitchell, trophy steward; Sheila Cook, Gren & Pat Norris and Jini Sharpe, committee members. All correspondence to be sent to the chairman Ghalib Al-Nasser ('Evenstar', Pinkuah Lane, Pentlow, Sudbury CO10 7JW. Tel: 01787 282332, email: ghalib.alnasser@gmail.com). More information about the society can be obtained when visiting the website (www.rarebudgerigars.co.uk) to view.