RARE VARIETY & COLOUR B.S.
Annual Members Day 2014
Report by Ghalib Al-Nasser
The Rare Variety & Colour B.S. held its Annual Members' Show, Seminar and AGM in conjunction with the Crested BC, Lutino & Albino BS and Variegated BC under the new Specialist Societies Combined Event in Bugbrooke, Northants which was well supported by members of the 4 societies and guests.
There were 273 birds from 34 exhibitors for the combined show which was judged by Bev Hutt and Rick Watts. There was an improved entry in the rare section of 90 exhibits compared to last year's entry of 42. The winner was Gren & Pat Norris's Easley clearbody skyblue cock. A Texas clearbody cock belonging to Dave Turner was the runner up followed by Dave and Linda Rafis's anthracite cock in third place. Bob Allen won the best young bird with a lacewing hen and Chris Hawkins won the Best Barrhead. Other awards in this section went to Ghalib & Janice Al-Nasser, best greywing, English fallow and saddleback; Aubrey Punter, best lacewing; Dave and Linda Rafis, best anthracite; Deamonn Mullee, best German fallow, slate; Gren and Pat Norris, best Easley clearbody; Dave Turner, best Texas clearbody, Mick Anzara, best rainbow.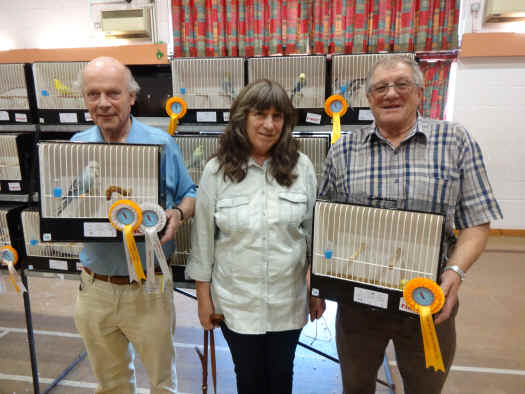 Gren & Pat Norris who won Best Rare and Bob Allen who won Best Rare young Bird
The Most Points in Show trophy went to Jan Hill while Cyril and David Sharpe, and Andy Benton won the Most Points in the Novice/Beginner section jointly.
After lunch Trevor Terheege was the guest speaker who presented an excellent PowerPoint presentation on the development of the budgerigar which was well received by those attending. Trevor took us through the history of the wild budgerigar from Australia that was brought to England in 1840 by the naturalist John Gould to the modern day budgerigar and the various problems associated with breeding the modern day big feathered budgerigar.
| | |
| --- | --- |
| Best Rainbow | Best Rare |
There was a very good and improved attendance of 26 members at the AGM which proved that the combined event worked successfully for the benefit of the four specialist societies. Ghalib Al-Nasser was re-elected to his three previous positions of Chairman, Secretary and Publicity Officer. Dave Rafis was elected President Elect with Rod Clarke as Vice Chairman. Other officers who were re-elected en-bloc were Bob Allen, Membership Secretary and Editor; Janice Al-Nasser, Treasurer; Rod and Sue Clarke, Patronage Secretaries; Jim Mitchell, Trophy Steward with the committee consisting of Sheila Cook, Gren and Pat Norris and Jini Jethmalani Sarojini.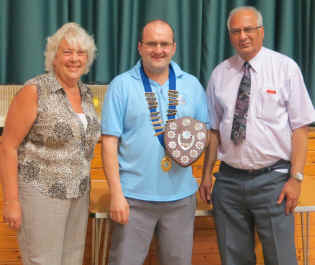 G & J Ghalib & Janice Al-Nasser receiving their
Any Age Sovereign Award from the President Cy Thorne
The Society's President Cy Thorne, presented the 2013 Silver (Any Age) Sovereign Salver to Ghalib and Janice Al-Nasser and the Gold (Young Bird) Sovereign Salver to Mick Anzara. It was agreed that the next combined event will be held on 17th May 2015 at Bugbrooke again. More information about the Society can be obtained from its website (www.rarebudgerigars.co.uk).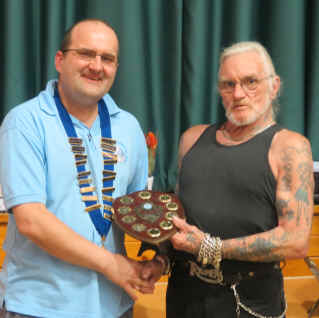 Mick Anzara receiving his Young Bird
Sovereign Award from the President Cy Thorne
Birds Benched: 80

No. of Exhibitors: 18

Judge: Bev Hutt
| | | | |
| --- | --- | --- | --- |
| Special | Cage Details | Exhibitor | Description |
| Best in Show (A/A) | 24-1 | G. & P. Norris | Easley Clearbody |
| Best Young Bird | 126-1 | R.J. Allen | Lacewing |
| Best Barhead | 951-1 | C. Hawkins | |
| | | |
| --- | --- | --- |
| Variety | Best Any Age | Best Young Bird |
| Rainbow | 219-2 M. Anzara * | 319-1 M. Anzara |
| Greywing | 27-1 G.& J. Al-Nasser * | N/A |
| Lacewing | 25-2 A.A.B. Punter * | 126-1 R.J. Allen |
| German Fallow | 18-1 D. Mullee * | 118-1 R.J. Allen |
| English Fallow | 17-1 G.& J. Al-Nasser * | 317-1 Jan Hill |
| Texas Clearbody | 222-1 D. Turner * | 123-3 M.& M. Chapman |
| Easley Clearbody | 24-1 G.& P. Norris * | N/A |
| Slate | 20-5 D. Mullee * | 120-1 D. Mullee |
| Saddleback | 21-1 G.& J. Al-Nasser * | N/A |
| Anthracite | 16-1 D.& L. Rafis * | 116-1 D.& L. Rafis |
| Junior | | |
Please indicate with a
*
for Best overall of each variety
| | |
| --- | --- |
| Most Points in Show | 25 Jan Hill |
| Most Points Champ /Int. | 25 Jan Hill |
| Most Points Novice / Beg. | 16 C.& D. Sharpe and A. Benton |
| Points Junior | |