SPECIALIST & RARE VARIETY OPEN SHOW - 2014
reported by Ghalib Al-Nasser, Show Organiser
The Specialist & Rare Variety Open Show had an increase in entry for its 26th show by avoiding the Silverstone Formula One Racing weekend nearby. This will not be a problem in future for the show as from 2015 onwards the show will always be held during June. This increase in entry was 23% up from last year with a total entry of 592 of which 413 birds were benched from 41 exhibitors.
As always, the show committee extends its sincere thanks and gratitude to the following sponsors; Brown & Hutt (50% cost of all the open rosettes for the show); Geoff Capes (cost of all the ceramic awards to the judges and Best of Colours); Mick Anzara, Ian Brickwood, Jan Hill, Grant Findlay & Nick Flavell and Dave & Linda Rafis for their financial sponsorship. Warren Wilson & BRASEA donated major rosettes for all the BOC winners and other colour awards. Frank & Vanessa Barnes & Swindon BS donated a Team show cage and Jim Mitchell a single show cage for the raffle. The show also received sponsorship in the form of bags of seed & products from Rod & Sue Clarke, Norman & June Cox, Johnson & Jeff Ltd, Country Wide Seed and Malcolm & Pam Freemantle. Donated birds for the raffle came from Alan & Gina Adams, Ghalib & Janice Al-Nasser, Grant Findlay & Nick Flavell, Gren & Pat Norris and Terry Sadler.
Our Guest of Honour this year to present the 45 trophies was Carlos Ram˘a from Portugal who was one of the judges and a friend of the show. Next year's show will be staged on 27th & 28th June 2015 (week 26) at the same venue in Bugbrooke, Northamptonshire.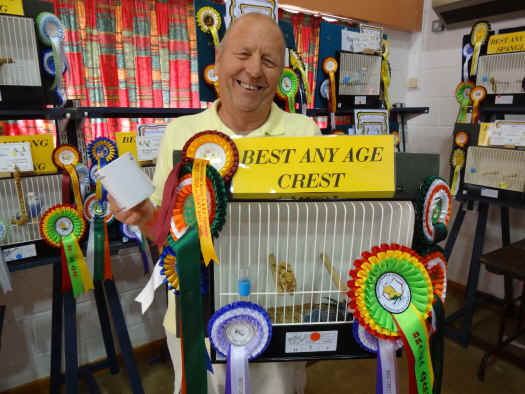 Mick Widdowson (Widdowson & Wilson) with his Best Crest award
CRESTS OF QUALITY
There was an increase in the crested entry to 51 for Carlos Ram˘a to judge. The adult C.C. and eventually the Best Crest in Show went to the new partnership of Mick Widdowson & Brian Wilson with a circular cobalt cock of good size and condition. Robert Brokenshire occupied second place with a circular grey green cock while the Widdowson & Wilson partnership was third with a tufted skyblue cock. Ghalib & Janice Al-Nasser's circular yellow hen was best any age opposite sex.
Ghalib & Janice won the young bird section with a circular opaline skyblue cock followed by the Widdowson & Wilson partnership with a circular hen. Robert Brokenshire was third with a circular cock.
Section Best Any Age Best Young Bird

Champion Widdowson & Wilson G & J Al-Nasser

Intermediate R. Brokenshire R. Brokenshire

Novice N/E N/E

Beginner K. Mitchell S. Smith

Junior O. Williams O. Williams


Best Crest Y/B G & J Al-Nasser