SPECIALIST & RARE VARIETY OPEN SHOW - 2012
reported by Ghalib Al-Nasser, Show Organiser
The 24th Specialist & Rare Variety Open Show once again was a successful show with total entry of 650 of which 452 birds were benched in the competitive classes from 52 exhibitors.
Our Guest of Honour this year to present the 45 trophies was Maurice Roberts, the Budgerigar Society President.
CRESTS OF QUALITY
There was an increase in the crested entry from 37 to 60 in our Golden Jubilee year for Colin lamb to judge. The champion circular crest any age cock class was the biggest class in the show with an entry of 18 crests some of which entered by Mick Widdowson and Dave Moss were the best ever to be seen and it is a credit to Mick & Dave for taking the variety forward over the past few years.
The adult C.C. and eventually the Best Crest in Show went to Mick Widdowson's Circular Opaline Light Green cock of good size with plenty of shoulder and a powerful bird. Mick also occupied second place with his well known last year's any age winner the Tufted Light Green cock of good size and shape and staged in good condition. Mick Anzara was third with a Circular Opaline Grey cock of good size. Dave Moss' neat Tufted hen was best any age opposite sex.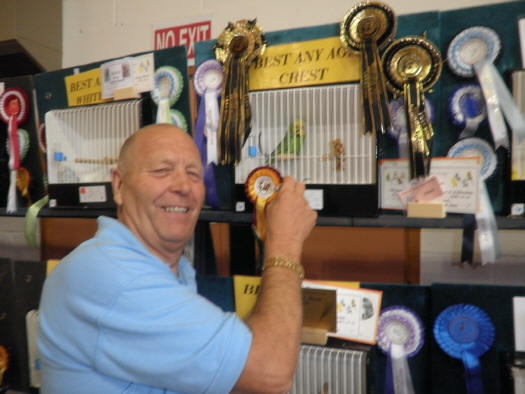 Best Crest in Show - Mick Widdowson
Dave Moss won the young bird section with a large powerful and well spotted Circular Opaline Skyblue cock staged in good condition and stood well. Ghalib & Janice Al-Nasser were second with a typy Circular Double Factor Spangle Yellow hen of good shape and shoulder but slightly out of condition. The Eatwell family of Fred, Sheila & Kevin staged a well presented Tufted Grey Green cock in third place.

Dave Moss won the young bird section
Pos. Any Age Young Bird
1. M. Widdowson D. Moss
2. M. Widdowson G & J Al-Nasser
3. M. Anzara F, S & K Eatwell
4. M. Anzara D & A Bruton
5. D. Moss D & A Bruton
6. G & J Al-Nasser Findlay & Flavell
7. D & A Bruton D & A Bruton