SPECIALIST & RARE VARIETY OPEN SHOW - 2010
reported by Ghalib Al-Nasser, Show Organiser
Once again Markfield Community & Sports Centre was the venue for the 22nd Specialist & Rare Variety Open Show receiving an increase in total entry to 681 of which a total of 531 birds were benched from 55 exhibitors.
The show committee extends their sincere thanks and gratitude to the following sponsors; Brown & Hutt (50% cost of all the open rosettes for the show); to Geoff Capes (cost of all the ceramic awards to the judges and Best of Colours), Jan Hill & daughter Karen (printing the coloured covers for the schedules and catalogues), Grant Findlay & Nick Flavell (printing cost of the schedules). Financial sponsorship came from Mick Anzara, Dave Moss and Dave & Linda Rafis. Warren Wilson & BRASEA (24 major rosettes for the BOC winners and other coloured awards). Bev Hutt, Guest of Honour, (donated bird to the most benched birds by a beginner on behalf of the Brown & Hutt partnership). Donated birds for the raffle; Alan & Gina Adams, Ghalib & Janice Al-Nasser, Sue & Rod Clarke, Roger Day, Chris Dew, Fred, Sheila & Kevin Eatwell, Malcolm & Pam Freemantle, Chris Fuller, Gren & Pat Norris, Sutton & Frisby and Cy Thorne and also to Norman & June Cox who give so much of their time to assist in running the show.
Next year's show will be staged on 2nd & 3rd July 2011 (week 26) at a new venue in Bugbrooke, Northamptonshire.
CRESTS OF QUALITY
Rod Clarke judged the 45 Crests and awarded the adult C.C. to a Tufted Light Green cock bred by Mick Widdowson; a large bird of quality shown in good condition. Gren & Pat Norris were second with a quality Circular Cobalt cock that lacked in spots size. Dave Moss was third with another Circular Cobalt cock that was shown in good condition but not of the same size quality as the first two placed birds. Dave & Linda Rafis benched the best any age opposite sex award with Circular Opaline Light Green hen.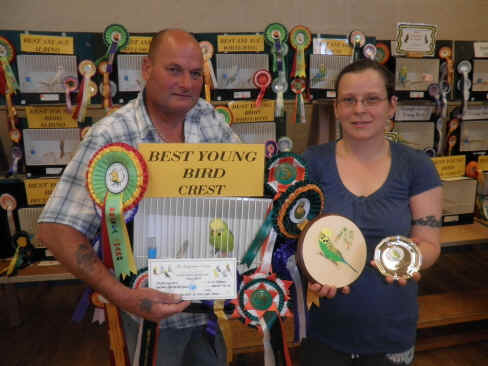 Alan & Gina Adams - young bird award and Best Crest in Show
Alan & Gina Adams won the young bird award and Best Crest in Show with an excellent Circular Opaline Cinnamon Light Green cock staged in good condition and good example of the variety. Dave Moss was second with a Circular Cobalt hen followed by a Tufted Yellowface Cinnamon Cobalt cock bred by Michael & Margret Chapman. Best junior any age award went to Gary Cameron.
Pos. Any Age Young Bird
1. M. Widdowson A & G Adams
2. G & P Norris D Moss
3. D Moss M & M Chapman
4. M Anzara D Moss
5. G Cameron
6. C & S Tipton
7. D & L Rafis
8. C & S Tipton