SPECIALIST & RARE VARIETY OPEN SHOW - 2008
reported by Janice Al-Nasser, Publicity Officer
The 20th Show of the Specialist & Rare Variety Open Show was held in June 2008. There was a slight drop in the total entry to 857 of which a total of 653 birds were benched from 69 exhibitors.
Sunday afternoon was the time for trophy presentations and on this occasion the Guest of Honour was Geoff Capes , B.S. President, who presented the 44 trophies together with the paintings donated by BRASEA to the winning exhibitors. Before that Mr. Capes presented Budgerigar Society Honorary Life Membership certificates for meritorious services to the budgerigar fancy to Norman & June Cox, Dave Cottrell, Grant Findlay & Ghalib Al-Nasser, who were awarded this honour at the AGM in May.
CRESTS OF QUALITY
Roger Carr judged the increased in entry of 78 Crests and awarded the adult C.C. and Best Crest in Show for the second year running to the Crested BC President Mick Widdowson's circular dark green cock . The winner came from the largest class in the show of 21 and all were benched so the competition was very stiff. This bird had good size as well as an excellent crest. The novice partnership of Paul Cheatley & Terry Alcorn benched a circular skyblue cock of good type and crest in second place. Ghalib & Janice Al-Nasser, benched a good type tufted skyblue cock in third place. Sue & Rod Clarke staged the best any age opposite sex award with a circular grey hen.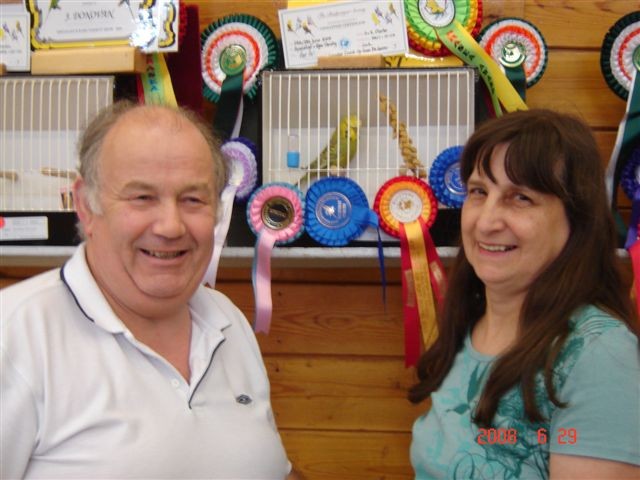 Sue & Rod Clarke (photo above), won the young bird award with a stylish
circular opaline cinnamon dark green cock (photo below) of good crest and condition.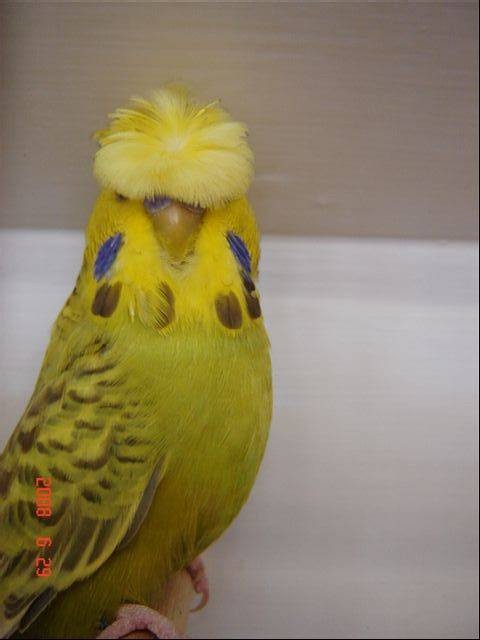 Dave Moss, from the intermediate section, was second with a circular albino cock, a good solid bird with a good crest. Alan & Gina Adams were third with a stylish circular spangle opaline cinnamon grey green hen.
Best junior any age award went to Gary Cameron.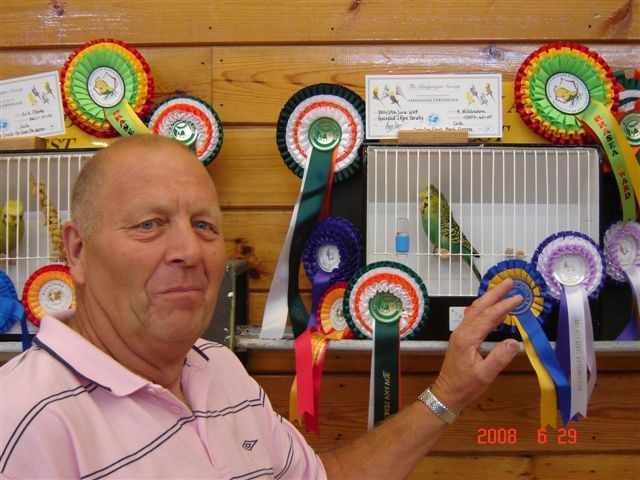 Mick Widdowson (above) looking delighted at winning Best Crest for the second year running!)
| | | |
| --- | --- | --- |
| Pos | Any Age | Young Bird |
| 1 | M Widdowson | S & R Clarke |
| 2 | Cheatley & Alcorn | D. W. Moss |
| 3 | G & J Al- Nasser | A & G Adams |
| 4 | S & R Clarke | Cheatley & Alcorn |
| 5 | D & L Rafis | C Thorne |
| 6 | Cheatley & Alcorn | A & G Adams |
| 7 | D & L Rafis | Mrs. S. Tipton |
| 8 | A & G Adams | Cheatley & Alcorn |
| 9 | J. Harvey | Cheatley & Alcorn |
| 10 | G. Cameron | Mrs. S. Tipton |