SPECIALIST & RARE VARIETY OPEN SHOW - 2007
reported by Janice Al-Nasser, Publicity Officer
This year's show, the 19th Show of the Specialist & Rare Variety Open Show , was certainly not a wash out, although many surrounding areas were flooded. As always, this show had a terrific atmosphere and there was a real buzz to the weekend from comments received by exhibitors and visitors. The show received a drop in total entry to 896 of which a total of 664 birds were benched from 75 exhibitors.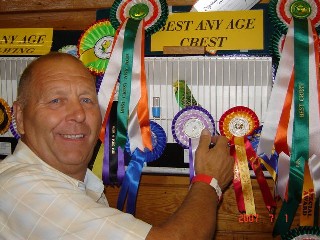 Mick Widdowson with his Best Crest at the 2007 SRVOS
Sunday afternoon was the time for trophy presentation and on this occasion the Guest of Honour was Janice Al-Nasser, B.S. President, who presented the 44 trophies together with the paintings donated by BRASEA to the winning exhibitors.
As in previous years at this show, partnerships did well in gaining 13 of the 24 CC's on offer and 22 of the CC's were awarded to the champion section.
Next year's show will be staged on 28 th & 29 th June (week 26) .
CRESTS OF QUALITY
Grant Findlay judged the 61 Crests (a large drop from last year's entry of 96) and awarded the adult C.C. and Best Crest in Show to the Crested BC President Mick Widdowson's circular dark green cock (pictured below).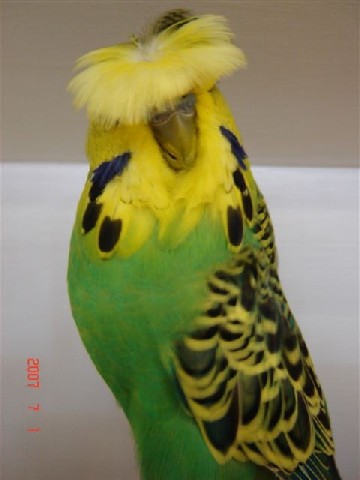 A bird with an impressive crest on a very well balanced bird, shown in excellent condition.
The novice partnership of Cheatley & Alcorn benched a circular dominant pied grey cock in second place, which was as large a bird, well spotted and pushed the winner all the way through. Ghalib & Janice Al-Nasser, show officials, benched a tufted skyblue cock in third place, a bird with good tuft and large spots but needs more width. Cy Thorne staged the best opposite sex award with a circular dominant pied opaline cinnamon light green hen.
Cliff & Darren Jones won the young bird award for the second consecutive year with a striking circular skyblue cock (pictured below)with an impressive crest that will do well when fully developed.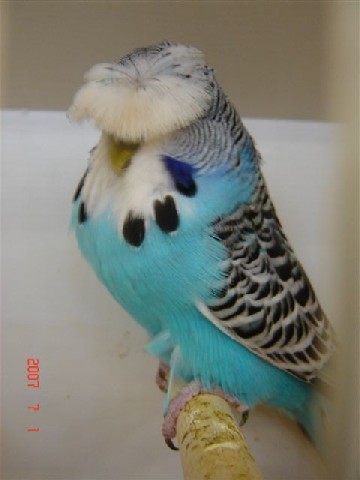 The Cheatley & Alcorn partnership occupied the next two places with a circular skyblue cock possessing a good neat crest and a half circular dominant pied skyblue hen with good width of shoulders but slightly smaller spots.
Best junior any age award went to Gary Cameron.
| | | |
| --- | --- | --- |
| Pos | Any Age | Young Bird |
| 1 | M Widdowson | C & D Jones |
| 2 | Cheatley & Alcorn | Cheatley & Alcorn |
| 3 | G & J Al-Nasser | Cheatley & Alcorn |
| 4 | C Thorne | C Thorne |
| 5 | Cheatley & Alcorn | M & H Richard |
| 6 | D & L Rafis | C Thorne |
| 7 | C & S Meachin | |
| 8 | G Cameron | |