SPECIALIST SOCIETIES COMBINED SHOW REPORT 2016
By Ghalib Al-Nasser, Event Organiser
The third combined annual members' show of the Crested BC, Lutino & Albino BS, Rare Variety & Colour BS and Variegated BC in May at their usual venue in Bugbrooke was another great success with the addition of the Spangled BBA joining forces this year. The atmosphere, as always, was good, relaxing and pleasant and with good attendance at the AGMs of the LABS, RV&CBS, SBBA and VBC. We are all looking forward to next year's event at the same venue in Bugbrooke on 14th May 2016.
Dave Critchlow, Geoff Moore and Phil Reaney were pleased with the exhibits and number of birds that they judged. The show received an entry of 284 from 25 exhibitors and benched 250.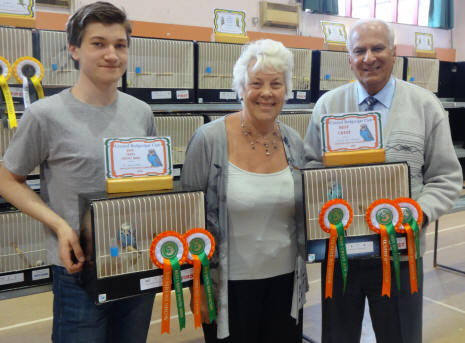 Oliver Williams and Ghalib & Janice Al-Nasser with their winning birds
There were less crests benched this year and heading the 14 crests from 7 exhibitors was a circular opaline skyblue cock from Ghalib & Janice Al-Nasser's stud. An adult circular opaline grey green cock benched by David & Linda Rafis were the runner up followed by Fred & Sheila Eatwell's tufted cobalt cock in third place. Oliver Williams from the junior section benched a young circular cobalt hen as best crest young bird.
Section Best Any Age Best Young Bird
Champion G & J Al-Nasser F & S Eatwell
Intermediate N/E N/E
Novice C, D & J Sharpe C & L Daily
Beginner C. F. Marshall N/E
Junior N/E O. Williams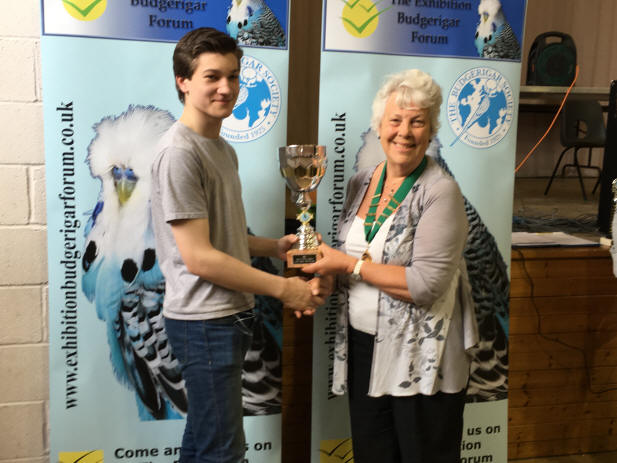 Oliver Williams receive the John Hunter trophy for Best Crest Young Bird
from the President Janice Al-Nasser.