SPECIALIST SOCIETIES COMBINED EVENT 2014
By Ghalib Al-Nasser, Event Organiser
The combined annual members' show of the Crested BC, Lutino & Albino BS, Rare Variety & Colour BS and Variegated BC in May was a great success with a good, relaxing and pleasant atmosphere by fanciers attending and with improved attendance at the AGMs of the LABS, RV&CBS and VBC. All societies have agreed at their AGMs to hold the joint event again next year at the same venue in Bugbrooke on 17th May 2015.
The day's programme was full and well organised and with the AGMs well spread and not clashing meant that attendance was well up on previous years when the societies had individual Days that were not well supported. The speaker for the day was Trevor Terheege who presented an excellent power point presentation on the development of the budgerigar which was well received by those who attended. Trevor took us through the history of the wild budgerigar from Australia that was brought to England in 1840 by the naturalist John Gould to the modern day budgerigar and the various problems that are associated with breeding the modern day big feathered budgerigar.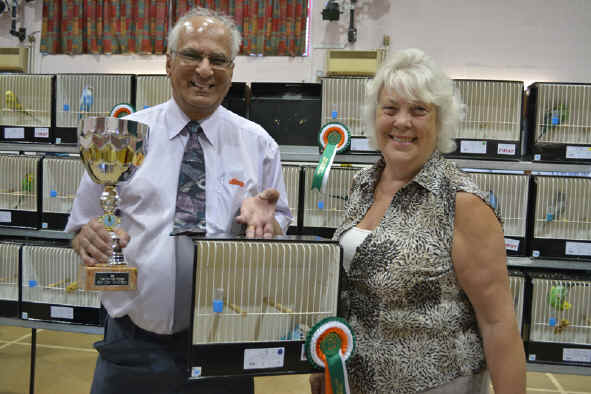 Ghalib and Janice Al-Nasser - winners of the Best Crest Young Bird award
Throughout the day Sue Clarke and her team were kept busy providing first class refreshments and an excellent buffet lunch for which we were all grateful and a presentation was made to her at the end of the day.
The show ran very efficiently under the auspicious of Pat & Ian Fielding acting as show secretaries and Cy Thorne as show manager with Rod Clarke dealing with patronage and Ghalib Al-Nasser overlooking the smooth running of the day.
Both Bev Hutt and Rick Watts were pleased with the exhibits and number of birds that they judged. The show received an entry of 273 from 34 exhibitors and this can only be considered a great success for a show staged in May and only open to paid up members of the 4 specialist societies.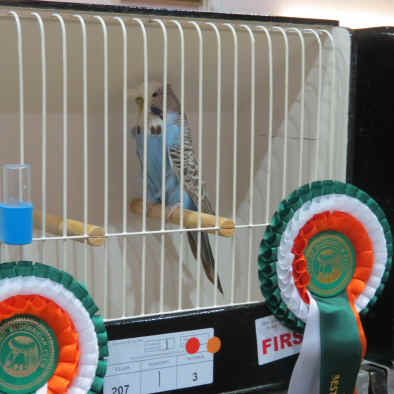 Best Crest In Show - Paul Cheatley & Terry Alcorn's circular cinnamon cobalt hen
Heading the 26 crests was Paul Cheatley & Terry Alcorn's circular cinnamon cobalt hen. A tufted cock benched by Keith Mitchell was the runner up followed by Robert Brokenshire's circular cock. Best crest young bird went to Ghalib & Janice Al-Nasser's circular opaline skyblue cock.
Section Best Any Age Best Young Bird
Champion G & J Al-Nasser G & J Al-Nasser
Intermediate Cheatley & Alcorn Cheatley & Alcorn
Novice N/E N/E
Beginner K. Mitchell N/E
Junior O. Williams O. Williams