Crested BC - 2014 Club Show
Compiled by Ghalib Al-Nasser
Our club show, held in conjunction with the B.S. Club Show, showed a further increase in entry from 35 in 2011, 40 in 2012, 49 in 2013 to 50 this year for our guest Australian judge Jean Painter, who is one of the top crested breeders and exhibitors in Australia, to judge and the quality of the crests were, as always, exceptional.
The partnership of Paul Cheatley & Terry Alcorn won the Best Crest at the Club Show with a powerful adult Circular Cinnamon Cobalt hen. A bird that had good length & balance with good depth of mask and spots and an attractive crest. A Circular Grey cock from Arthur Miller was second in the line up followed by the Widdowson & Wilson partnership in third place with a Tufted Skyblue cock of long feather and Best Any Age Opposite Sex.
| | |
| --- | --- |
| Cheatley & Alcorn - Best Crest (© M Freakley) | Paul Chealey with their winning bird |
The Best Crest Young Bird award went Arthur Miller with a quality Circular Grey cock of good size and length. Daniel Norman was second with a Circular Cinnamon Cobalt hen followed by Alan & Gina Adams with a Circular Spangle Grey Green hen with good crest and spangle spots. Richard Hooper gained Best Opposite Sex Young Bird by a member with a Circular cock.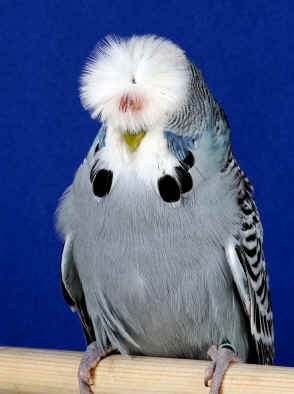 Best Crest Young Bird - Arthur Miller (© M Freakley)
Jean was very pleased to see the quality in our crests with impact and correct positioning. The Society extends congratulations to all crested exhibitors and in particular the winners.
Pos. Crest C.C. Any Age Crest C.C. Young Bird
1. Cheatley & Alcorn A. Miller *
2. A. Miller * D. Norman
3. Widdowson & Wilson A & G Adams
4. D. Norman S. Smith
5. K. Bruce R. Hooper
6. R. Hooper R M Hemingway
7. S. Smith M. Anzara
Members' Awards:
Section Any Age Young Bird
Champion Widdowson & Wilson A & G Adams
Intermediate Cheatley & Alcorn R. Hooper
Novice K. Bruce R.M. Hemingway
Beginner S. Smith S. Smith
Junior D. Norman D. Norman
* Indicates Non Member