Crested BC ~ 2007 Club Show ~ Compiled by Janice Al-Nasser ~ Publicity Officer
There seems to be a trend in a drop in entry for our variety over the past few years at our club show and this year was no exception with an entry of only 47 in comparison to the 79 entries for the previous year. However, two of the exhibitors were judges at the show and one had sold out his crests prior to the show. It was our secretary Bill Searle's turn to judge our variety and he had some wonderful birds put before him to judge.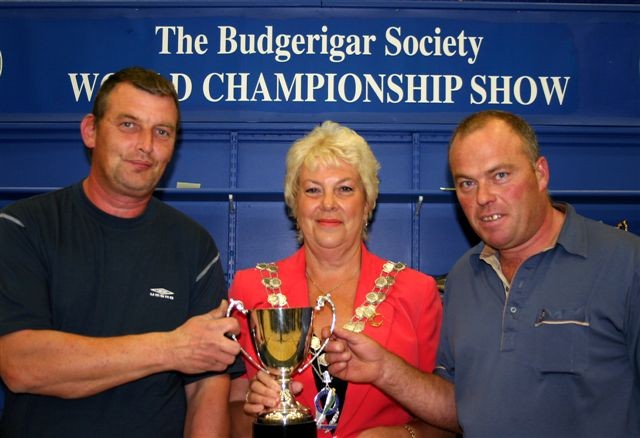 Messrs Cheatley & Alcorn with BS President Janice Al-nasser
It was the day of the circular skyblues for this year as both challenge certificate winners were full circular skyblue cocks. It was also very pleasing to see two new names among both winners. Bill awarded the any age certificate to Sue & Rod Clarke's circular skyblue cock, which displayed a good neat crest and was staged in immaculate condition. The runner up was a lovely circular dominant pied opaline skyblue cock from the novice partnership Paul Cheatley & Terry Alcorn. It was a good bird that could have done well if it wasn't for lack of condition. The best opposite sex and third best went to the Clarke's circular grey hen of good size and style but spoilt by lack of condition as well.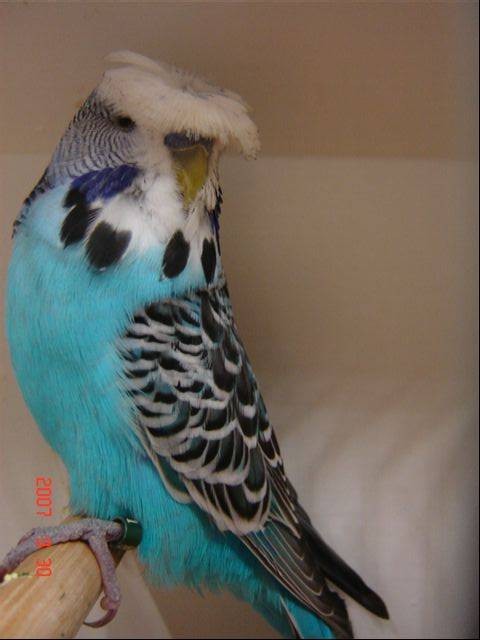 Cheatley & Alcorn-Best breeder & Best Crest in Show
Paul & Terry were extremely happy to have won the young bird CC and that for Best Crest in Show with a lovely circular skyblue cock. They have been second over the past few years and it was their turn this year but they have made this year and were also awarded the plaque donated by Arizona BS. The winner was of good size, neat crest and exhibited in excellent condition. The runner up was another quality circular opaline cobalt cock benched by Arthur Miller. Another bird from the Cheatley & Alcorn stud; a big circular dominant pied skyblue hen, was placed third but was not in good condition.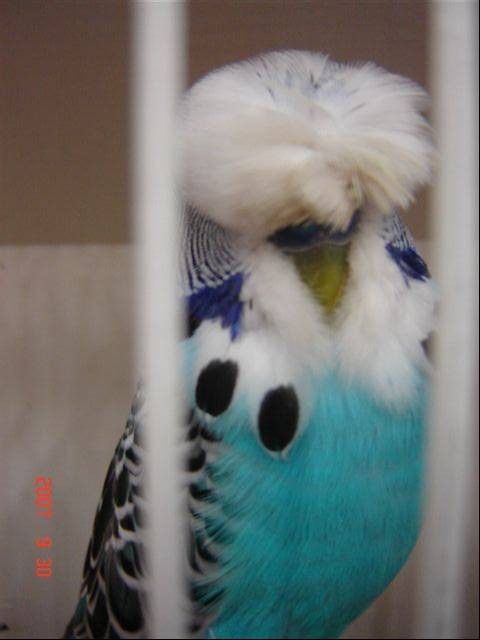 Best Any Age Crest 2007 club show S & R Clarke
| | | |
| --- | --- | --- |
| Pos | Crest C.C. Any Age | Crest C.C. Young Bird |
| 1 | S & R Clarke | Cheatley & Alcorn |
| 2 | Cheatley & Alcorn | A Miller |
| 3 | S & R Clarke | Cheatley & Alcorn |
| 4 | J Hunter | C Thorne |
| 5 | Cheatley & Alcorn | A M White |
| 6 | J Hunter | A Brown |